West Ham 3-2 Liverpool: Premier League – as it happened | Football | The Guardian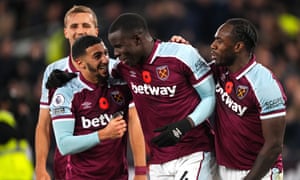 Key events
Show
6.29pm

GMT

18:29

Full time: West Ham 3-2 Liverpool

6.18pm

GMT

18:18

GOAL! West Ham 3-2 Liverpool (Origi 83)

6.09pm

GMT

18:09

GOAL! West Ham 3-1 Liverpool (Zouma 75)

6.01pm

GMT

18:01

GOAL! West Ham 2-1 Liverpool (Fornals 67)

5.26pm

GMT

17:26

Half time: West Ham 1-1 Liverpool

5.12pm

GMT

17:12

GOAL! West Ham 1-1 Liverpool (Alexander-Arnold 41)

4.35pm

GMT

16:35

GOAL! West Ham 1-0 Liverpool (Fornals 4)
Live feed
Show
7.01pm GMT19:01
Sachin Nakrani has filed his match report, so I'll leave you with that. Thanks very much for your company and emails - goodnight.
7.01pm GMT19:01
Here's Jurgen Klopp
"Their first goal was a foul, it makes no sense [that it was allowed]. We were fully in control of the game in the first half. Over the whole 90 minutes we were not clinical enough in the final third. They have quality on counter-attacks and set-pieces. But I just don't know how the first goal was allowed. And I thought Cresswell's challenge on Henderson was reckless.
"I know people will say, 'He's looking for excuses.' I'm not. I'm completely calm. I don't think we are too good to lose football matches – it's not nice but I accept it. But there are times when you need a… normal decision from a ref, and he didn't do that.
"We had them were we wanted them at 1-1. We lost too many balls and that allowed them to counter-attack, which they didn't in the first half. It looked like we lost a bit of patience."
6.43pm GMT18:43
Post-match interviews
Kurt Zouma "It was a great performance today from everyone, even the crowd. Liverpool are always tough to play against. It was an open game and both sides had a lot of chances to score. We were more clinical and we stayed strong at the end."
"Tactically we were spot on today. We knew Liverpool would play high and leave space at the back. The plan was to hurt them to on the counter-attack and it worked today."
Pablo Fornals "I think it's logical to give me the first goal - Alisson doesn't want it! But it doesn't matter – West ham won 3-2, that's all that matters. I love playing in our stadium with our crowd, we are very happy!"
6.40pm GMT18:40
6.39pm GMT18:39
Liverpool were the last unbeaten team in the Premier League this season, and you know that means.
"Happy Invincibles Day to all Gooners," says Graham Fulcher. "And after only 11 matches. The correct answer to the fantasy season ticket question is of course Arsenal 2003-04. With each season that passes that achievement looks greater."
Especially as there were only two or three games (Man Utd away, Portsmouth away, another one I've probably forgotten) in which they even came close to losing. That said, it's criminal they didn't win the Champions League that year.
6.33pm GMT18:33
Liverpool's 25-game unbeaten run has come to an end, though they played a huge part in a memorable game of football. West Ham defended with courage and intelligence and used their twin attacking strengths - counter-attacks and set-pieces - to devastating effect. It's David Moyes first win over Liverpool since 2010, and he looks full of pride as he applauds the West Ham supporters. Right now, West Ham are the feelgood story of English football.
Updated at 6.34pm GMT
6.29pm GMT18:29
Full time: West Ham 3-2 Liverpool
Peeeeeeeeeeeeeep peeeeeeeeeeeeep! West Ham move above Liverpool and into third place after a famous victory!
Updated at 6.33pm GMT
6.28pm GMT18:28
90+4 min Origi heads straight at Fabianski from Alexander-Arnold's cross! It was a half chance at best.
6.27pm GMT18:27
90+3 min Minamino concedes a silly free-kick, which allows West Ham to waste a bit more time.
6.26pm GMT18:26
90+1 min: What a chance for Mane! Alexander-Arnold flipped the free-kick to the far post, where Mane was unmarked in the six-yard box. He stooped to head the ball back across goal but it drifted just wide.
6.25pm GMT18:25
90 min There will be four minutes of added time.
6.25pm GMT18:25
90 min Soucek is penalised for a push on Minamino 25 yards from goal. The free-kick is a fair way to the right of centre, possibly too wide for the right-footed Alexander-Arnold. Salah, on the other hand...
6.23pm GMT18:23
89 min Liverpool's last league defeat was at home to Fulham in March.
6.22pm GMT18:22
88 min Saying which, Rice and Masuaku combine to eat up 30 seconds in the Liverpool half.
6.21pm GMT18:21
87 min The entire game is now taking place in the West Ham half. Most of it is taking place in their third.
6.20pm GMT18:20
86 min Arthur Masuaku replaces Said Benrahma. West Ham are now playing with a back 12.
6.18pm GMT18:18
84 min Vladimir Coufal is on for Jarrod Bowen. This is breathless, brilliant stuff.
6.18pm GMT18:18
GOAL! West Ham 3-2 Liverpool (Origi 83)
Divock Origi has dragged Liverpool back into the game! A loose ball broke to him on the edge of the area after Alexander-Arnold was challenged. Origi turned Dawson smartly and hit a left-footed shot that bobbled into the far corner.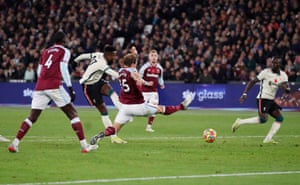 Updated at 6.25pm GMT
6.17pm GMT18:17
83 min Liverpool certainly haven't given this up, and if they get one now anything could happen.
6.16pm GMT18:16
82 min Salah, on the right side of the area, twists Cresswell inside out and then back in again. Eventually he's challenged by Rice and the ball breaks to Thiago, whose low shot from the edge of the area is comfortably saved by Fabianski.
6.15pm GMT18:15
82 min Let's all laugh at David Moyes.
6.14pm GMT18:14
80 min Fabinho is replaced by Takumi Minamino, which means a switch to 4-2-3-1.
6.14pm GMT18:14
79 min "Como?" says Luca Giacopuzzi. "I guess you meant Hellas Verona?"
I meant Como. But if I was being serious, my fantasy season ticket woul of course be Sampdoria 1990-91.
6.11pm GMT18:11
77 min West Ham's three greatest strengths are set-pieces, counter-attacks and defensive organisation, and they have been right on top of their game with all three.
6.10pm GMT18:10
76 min Divock Origi is on for Diogo Jota.
6.10pm GMT18:10
Bowen curled a booming, inswinging corner beyond the far post, where Zouma leapt imperiously to head past the scrambling Alisson. David Moyes, who is usually quite low-key on the touchline, is going ballistic. This has been a sensational performance for West Ham.
Updated at 6.12pm GMT
6.09pm GMT18:09
GOAL! West Ham 3-1 Liverpool (Zouma 75)
Scenes!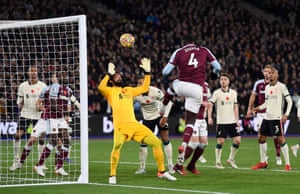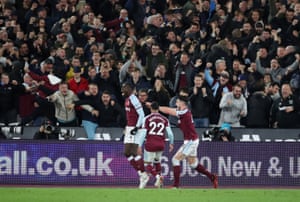 Updated at 6.21pm GMT
6.08pm GMT18:08
74 min Another West Ham break! Fornals releases Antonio, whose shot is blocked by van Dijk. The ball deflects behind for a corner...
6.08pm GMT18:08
73 min Alisson makes a great save for Fornals, though it wouldn't have counted as he was offside. It was another marvellous counter-attack from West Ham, with Antonio robbing Fabinho and running 60 yards before poking the ball through to Fornals.
6.07pm GMT18:07
72 min "Can you imagine what it must have been like to be a Napoli fan during the Maradona / Mars years?" says Simon McMahon. "If I could go back in time and experience a particular era as a fan of any club, Naples in the late 1980s would be high up on my list."
Como 1984-85 for me, Clive.
6.05pm GMT18:05
71 min Another dangerous West Ham break. Bowen tries to twist away from van Dijk and instantly realises his error as van Dijk shepherds the ball out of play.
6.04pm GMT18:04
70 min The atmosphere is sensational.
6.04pm GMT18:04
69 min Henderson's very deep cross is headed into the side netting by Jota. A very tricky chance.
6.03pm GMT18:03
69 min Thiago Alcantara comes on for Oxlade-Chamberlain. I think Liverpool were going to make that change before the goal.
6.03pm GMT18:03
It was a devastating counter-attack from West Ham. Mane lost the ball 40 yards from goal and West Ham were off. Bowen surged straight at the heart of the Liverpool defence, a scintillating run, and poked the ball through to Fornals on the edge of the area. His low left-footed drive went through the hand of the diving Alisson, who should have done better, and dribbled into the net.
Updated at 6.47pm GMT
6.01pm GMT18:01
GOAL! West Ham 2-1 Liverpool (Fornals 67)
West Ham are back in front!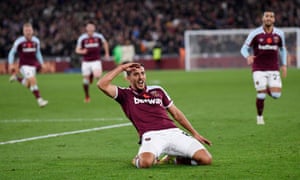 Updated at 6.07pm GMT
6.01pm GMT18:01
66 min "'Updated the Mars shirt'?" sniffs Andrew Hurley. "Wouldn't keeping it exactly as it was be absolutely perfect?!"
Oh aye, but their shirt manufacturers might have something to say about it. I think the Mars one was Ennerre, and it's Kappa who make them now. Then you have the shirt sponsor to consider. Bloody money in football.
5.59pm GMT17:59
65 min Johnson muscles Mane off the ball, 30 yards from goal, and drives a low shot wide of the near post. That was pretty impressive - not the shot so much as the brusque manner in which he dealt with Mane.
5.58pm GMT17:58
63 min "Hello Rob," says Kári Tulinius. "To answer my own question, I submit Rinus Michels. After his glorious 1974 La Liga title, and his Netherlands' run to the World Cup final, all that he had to brag about for the next decade plus was a Copa del Rey in '78 and a German Cup in '82. But then he took a great Dutch team to the Euro '88 title."
Was he managed at Euro 92 as well? They were arguably an even better team then, though they ballsed it up against Denmark. Some of their football in the 3-1 win over Germany was seriously total.
5.55pm GMT17:55
61 min Jota fouls Rice 30 yards from goal on the right wing. Bowen's free-kick is headed away at the near post by Henderson. Bowen collects the loose ball and puts in another cross; this time van Dijk heads clear.
5.54pm GMT17:54
59 min A few of you have suggested that Salah dived for the free-kick that led to Liverpool's equaliser. There's one angle that supports that view, though it's hard to be absolutely sure as you can't see whether his foot is clipped. At first I thought it was a clear foul by Rice but now I'm not so sure. We know Salah has form, certainly against West Ham. Then again, Liverpool could argue they should have been palying against 10 men from the 8th minute.
5.52pm GMT17:52
57 min: Chance for Salah! Mane's cross deflects towards the edge of the area, where Salah waits for the ball to bounce and then whacks it wide of the near post. It was a pretty tricky chance, even for him.
5.51pm GMT17:51
57 min "Hi Rob," says Peter Oh. "That Maradona tribute jersey looks like a fashion crime scene."
5.50pm GMT17:50
56 min Benrahma has been excellent today by the way. He's such a neat, progressive player.
Updated at 5.51pm GMT
5.50pm GMT17:50
55 min Salah has a shot blocked by Zouma. West Ham break and Alexander-Arnold is booked for an unsuccessful attempt to pull back Benrahma.
5.48pm GMT17:48
54 min "I can see Colum Fordham's point," says Matt Dony. "It's a shame the off-field adventures probably held Maradona back from reaching Trent's level."
5.47pm GMT17:47
52 min: Chance for Mane! This is turning into a cracking game. Alexander-Arnold waves a typical crossfield pass to Robertson, who cushions it back across goal on the volley. Mane meets it on the volley himself, but his shot is too straight and bounces off Fabianski. Either side and Fabianski would have struggled to save that.
5.45pm GMT17:45
50 min: Dawson hits the bar! Cresswell's cross goes behind for a corner off Henderson's elbow. Fornals curls another wicked corner into the six-yard box, where Dawson flicks a header onto the top of the bar!
5.43pm GMT17:43
49 min "Watching Trent's free kick," says Paul Fields, "I was mostly thinking how amusing it is to see a defender lying on the floor behind the wall watching a beautifully flighted free-kick arrow into the top corner."
Misery, redefined.
5.43pm GMT17:43
48 min Fabinho stops a West Ham break with a calculated foul on Fornals.
5.42pm GMT17:42
47 min Talking of Maradona, I can't have this shirt. If they wanted to pay tribute, they should have just updated the classic Mars kit.